How are we doing?
Population Growth Rate (2019)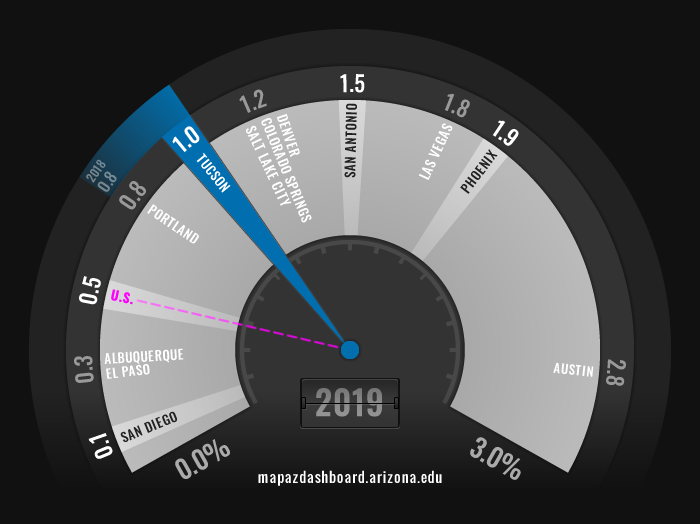 The population in the Tucson Metropolitan Statistical Area (MSA) increased by 1.0% in 2019, bringing the total population to 1,044,675 residents. This growth rate ranked Tucson eighth out of 12 western MSAs. The Austin MSA posted the fastest growth rate at 2.8%, while San Diego's population increased by just 0.1%. Tucson's population growth has steadily increased since 2010.
Why is it important?
Population growth is an important measure of community growth, reflecting both net migration and natural increase (births minus deaths). Higher population growth rates can be due to increases in employment, the quality of local services, schools, and leisure opportunities. Additionally, new growth leads to increased demand for housing, goods, services, and infrastructure; which can spur regional economic development. A carefully monitored statistic, population levels and growth rates are the basis for a myriad of public decisions related to infrastructure and community planning. For example, federal apportionments for highways are largely based on metropolitan population levels and expected growth within urbanized areas.
How do we compare?
In 2019, the 20-44 year age bracket posted the largest population share for the Tucson MSA, state of Arizona, and the nation at 33.0% for Tucson and Arizona, and 33.3% for the U.S. The 65-years plus age bracket posted the smallest share in all three, with slightly higher rates in Tucson and Arizona, reflecting the large number of retirees in the state. Young people, ages 0-19, made up the second largest share of the population in Tucson and the state, comprising 23.6% of the population in Tucson and 25.3% in Arizona.
The Tucson MSA had a larger percentage of Hispanic or Latino residents at 37.0% than did the state at 31.1%. Further, Tucson's Hispanic or Latino population was significantly higher than the national rate of 17.8%. Conversely, the Tucson MSA had a slightly lower percentage of those identifying as white, non-Hispanic than Arizona or the nation. 

What are the key trends?
The Tucson MSA and state of Arizona have seen more volatility in their population growth rates than the U.S. Nationally, population growth remained near 1.0% until 2010 when it slowly began to decline. Tucson and Arizona posted wide fluctuations in population growth between 2001 and 2019 with a high of 2.8% in Tucson and 3.5% in Arizona. At the end of the 2007 – 2008 recession Tucson posted negative population growth. Following 2010, rates increased steadily in Tucson with a slight dip during 2015. 
How is it measured?
Population growth rate data are computed from population levels reported by the Arizona Office of Economic Opportunity and U.S. Census Bureau Annual Estimates of the Resident Population. This represents an annual supplement to the decennial census (count) of the resident population. Population profile information is gathered from the U.S. Census Bureau American Community Survey (ACS) five-year estimates.