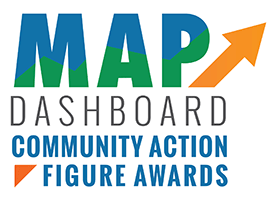 Are you a MAP Community Action Figure?
It could be worth $2,500!
Tell us how your organization is using the MAP Dashboard to make a difference in our community and you could win one of four $2,500 cash prizes in the Community Action Figure Awards program.
The MAP, which stands for Making Action Possible, was designed to provide useful, timely and easy-to-understand information to do just that. The Action Figure Awards are offered in celebration of the MAP's two-year anniversary. Four $2,500 prizes will be awarded thanks to the generosity of the Melody S. Robidoux Foundation Fund at the Community Foundation for Southern Arizona.
Contest Rules:
Contestants will submit a written entry on the "Community Action Figure Awards Contest" form on the MAP Dashboard website (350 words or less) describing how they used information from the MAP Dashboard to improve their organization, business or the community. Information will include a description of targeted audiences/markets, the intended outcomes, and demonstrated positive impacts.
Judging Criteria: Winning entries will be determined by the MAP Dashboard Advisory Board based on the demonstrated impact the usage of information and/or data from the MAP Dashboard has (or is currently having) on the stated targeted audience(s).
Prize Details: The four winners will be presented with cash awards in the amount of $2,500 each during the 2016 Economic Outlook Luncheon held on December 9, 2016 at Westin La Paloma Resort from 11:30 am – 1:30 pm. All four winners will be notified in advance and will receive a free voucher to attend the luncheon and accept their prize.
Deadline: All entries must be received by 6:00 pm (Arizona Time) on October 31, 2016.
Eligibility: The contest is open to organizations located in Pima, Cochise, Santa Cruz, Yuma, Greenlee, Pinal and Graham counties. Entrants must be employed by or affiliated with the organization being nominated and must be at least eighteen (18) years of age at the time of entry. MAP Dashboard employees and Advisory Board members are not eligible to enter.
Agreement to Rules: By the action of submitting an entry in the MAP Dashboard Community Action Figure Awards, all entrants agree to the contest rules and to having their name and entry story publicized by the MAP Dashboard following the contest.