Everywhere you look there are Help Wanted signs. Filling today's jobs is a hot topic and tomorrow's workforce is uncertain. All of this impacts you, whether you're a job seeker, an employer or someone trying to purchase a service or product.  
Find out why this is such an important issue, why it happened, and what we can do about it. The Making Action Possible Dashboard, Arizona Daily Star, and the University of Arizona are partnering to create a thought-provoking event to explore the challenges we're facing, the risk to all of us, and what we can do today to shape tomorrow.  
Seating is limited, so reserve your place today! 
Learn the facts and examine the trends about the behavior of our workforce from MAP Dashboard Director Jennifer Pullen. Other speakers include UA President Robert C. Robbins, Arizona Commerce Authority President Sandra Watson, and Tucson Medical Center CEO Mimi Coomler, along with other business, education, and workforce experts.  
Cost is $10 including free parking in the Second Street Garage (1340 E 2nd Street).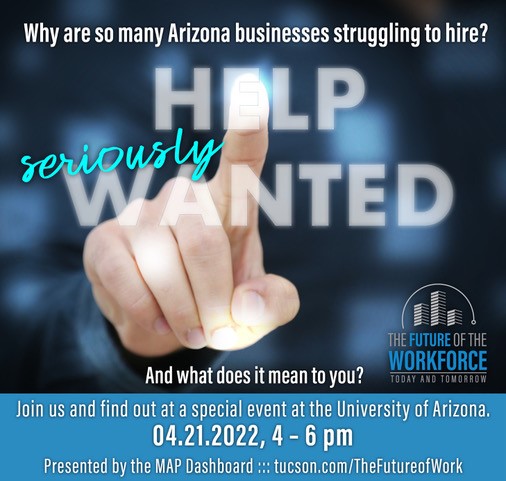 EVENT SCHEDULE/ACTIVITIES

April 21, 2022
04:00 PM
Tickets are required. Please either provide a printed ticket or have tickets available on your phone.
The Future of the Workforce, Today and Tomorrow Agenda
Welcome
Ted Maxwell, President/CEO, Southern Arizona Leadership Council
Shocking Developments in Tucson's Labor Market
Jennifer Pullen,

Senior Research Economist

,

Eller College Economic and Business Research Center
Arizona Board of Regents/ Business Workforce Report 2022
Jim Rounds, President, Rounds Consulting Group
Panel: Today's Business Challenges
John Lai, CEO, Mister Car Wash
Alex Horvath, Senior VP and Chief Human Resources Officer for TMC Health System
Jill German, President, Roche Tissue Diagnostics
Susan Gray, President & CEO, UNS Energy/TEP
Panel: Preparing the Workforce for Today and Tomorrow
Robert C. Robbins, President, University of Arizona
Lee Lambert, Chancellor, Pima Community College
Kathy Prather, Superintendent/CEO, JTED
Sandra Watson, President/CEO, Arizona Commerce Authority
Workforce Event Sponsors