How are we doing? 
Housing Affordability Index (2017)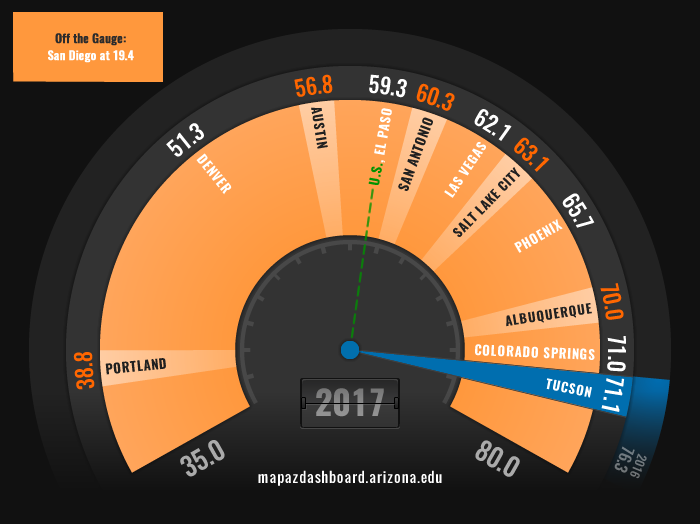 In 2017, 71.1% of homes sold in the Tucson Metropolitan Statistical Area (MSA) were affordable to a family earning the local median income. This ranked Tucson first among peer metropolitan areas in housing affordability, followed closely by Colorado Springs. Only 59.3% of homes in the U.S. were affordable to families earning the median income for the nation, while the share of affordable homes in Portland was below 40%. San Diego's share of affordable homes was so low, at 19.4%, it was off the chart! Historically the share of affordable homes in Tucson has fluctuated. However, since 2009 it has remained higher than the national share.
Why is it important?
Housing affordability is an important issue for many households. Access to affordable housing is important because the home is the largest asset for most people, and its price can affect spending in other areas such as: childcare, education, health care, and leisure activities. Since personal consumption makes up the better part of the economy, and discretionary income levels are influenced by the cost of housing, home prices are an important factor in the local economy. Several factors can influence home prices, including mortgage rates, demographics, income growth, the supply of new housing, and speculative trends. Housing affordability is determined by the share of homes sold in an area that would have been affordable to a family earning the local median income.
What are the key trends?
The share of homes sold in Tucson during 2017 that were affordable to a family earning the median income was 71.1%. This was 11.8 percentage points higher than the share of affordable homes in the U.S. Likewise, Phoenix had a higher share of affordable homes than the U.S. at 65.7%. Tucson's share of affordable homes has fluctuated significantly during the past seventeen years with a low of 32.4% in 2006, just before the housing boom, and a high of 85.6% in 2012. The recent trend in housing affordability has declined as home prices continue to rise faster than wages.
How is it measured?
Housing affordability data comes from the National Association of Home Builders (NAHB). The index is calculated for a given area based on two major components: income and housing. NAHB's methodology includes using annual median family income estimates and assumes that a family can afford to spend 28% of its gross income on housing. Additionally, monthly sales transaction records are used to determine the sales price of sold homes. Further, NAHB calculates the monthly principal, interest, and taxes based on a 30 year fixed rate mortgage with a loan for 90% of the sales price. The data is reported quarterly and the Making Action Possible (MAP) research team aggregates the data to an annual index value.