Tourism is a key economic driver of the state of Arizona. In 2016, it was the leading export industry in Arizona according to the Arizona Office of Tourism. Additionally, it directly supported nearly 185,000 jobs during that same year.
The Making Action Possible (MAP) Dashboard explores several key components of the tourism industry including employment, wages, air travel, and outdoor recreational opportunities. One example is national park visits at the state and metropolitan level. Figure 1 illustrates the growth rate in park visits for the U.S., state of Arizona, and the Tucson Metropolitan Statistical Area (MSA) over the past 11 years. The Tucson MSA has seen park visits increase by 8.0% during each of the past two years.
Figure 1: Growth Rate of National Park Visits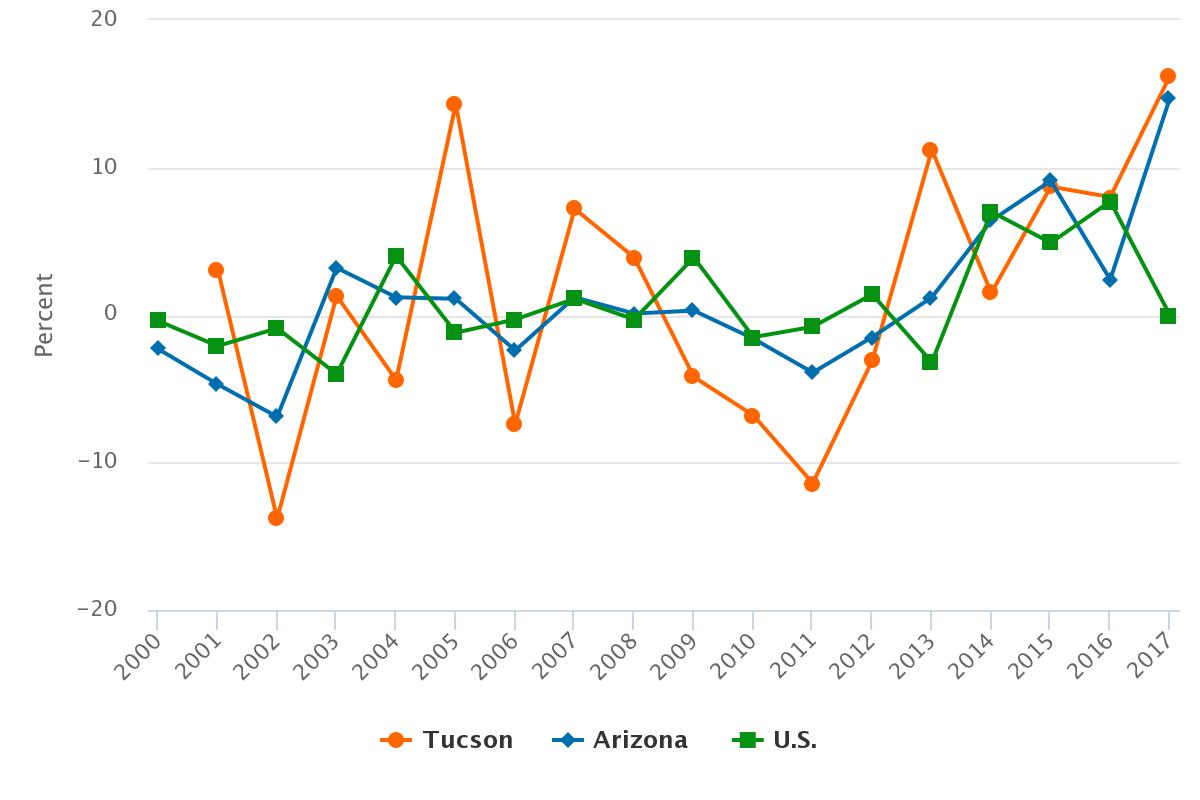 The Arizona Office of Tourism commissions annual reports on the economic impact of the travel industry. One of those reports, the Arizona Travel Impacts 1998 – 2016p, includes data at the state and county level. The report states that total direct travel spending in Arizona during 2016 was $21.2 billion, an increase of 3.9% per year over the past two years. Of that $21.2 billion, travel spending in the Tucson and Southern Arizona area accounted for $3.3 billion. Additional information in the report includes travel activity, employment, secondary impacts, and the Gross Domestic Product of the travel industry.
Interested in the latest data on tourism trends in Arizona? Check out the Tourism and Travel page on EBRC's Arizona's Economy online magazine. Looking for data on international tourism trends? EBRC's Arizona-Mexico Economic Indicators site has the latest indicators on Arizona-Mexico Tourism.
To view the Arizona Travel Impacts report and learn more on tourism data and trends for the state visit the Arizona Office of Tourism website. To learn more about visiting Tucson and the Southern Arizona region check out the Visit Tucson website.