Have you ever wondered how your fellow business leaders, non-profits, elected officials, or engaged community members use the MAP Dashboard to make informed decisions? Throughout the year the Community Spotlight will highlight how members of the Southern Arizona community utilize the MAP. These stories will provide insights on how to get the most out of the MAP and we also hope they will inspire you to use the site in new ways. This third edition of the Community Spotlight focuses on a non-profit organization in Southern Arizona:
Tucson Values Teachers
Authored by: Colleen Niccum, CEO of Tucson Values Teachers
Tucson Values Teachers and the MAP Dashboard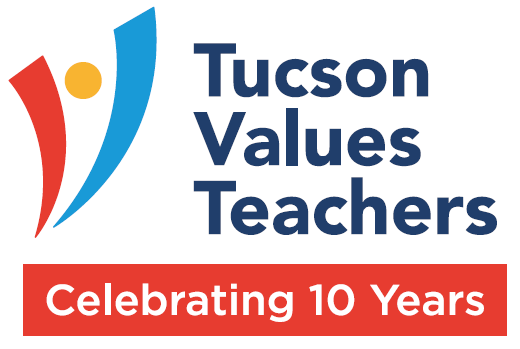 Recognizing the critical importance of a high quality teacher in every classroom, Tucson Values Teachers was launched in 2008 by the Southern Arizona Leadership Council and education leaders to focus on attracting, retaining and supporting the K-12 teacher workforce in Southern Arizona. It does this work by raising awareness of the teacher workforce crisis, advocating for increased funding and teacher-friendly policies, rewarding and recognizing excellent teachers, and providing programs and initiatives that benefit teachers professionally and financially.
Reliable, trusted data is an important part of telling the teacher workforce story. Thanks to the MAP Dashboard, TVT has been able to share Tucson teacher wage data and provide meaningful comparisons with other communities, such as Phoenix, El Paso, San Diego and Portland. Sadly, teacher wages in Tucson rank 12th out of the 12 communities tracked by the MAP, a ranking that is unlikely to change in spite of recent commitments to raise their pay. Having the data from the MAP is critical to TVT's efforts to build public and political will to bring Tucson teacher pay to the national median.
How Do You Use the MAP?
Does your organization use the MAP Dashboard? If so, we'd love to hear from you. Please fill-out the form below and we will be in contact.