Have you ever wondered how your fellow business leaders, non-profits, elected officials, or engaged community members use the MAP Dashboard to make informed decisions? Throughout the year the Community Spotlight will highlight how members of the Southern Arizona community utilize the MAP. These stories will provide insights on how to get the most out of the MAP and we also hope they will inspire you to use the site in new ways. 
Pima Association of Governments (PAG)
Authored by: Paki Rico, Community Affairs Administrator
Photo: Farhad Moghimi, Executive Director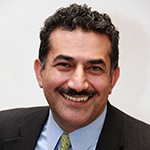 Safe, efficient, reliable transportation, along with healthy air and clean water are among the public expectations that Pima Association of Governments (PAG) strives to meet as a metropolitan planning organization.
PAG, however, is not part of Pima County government. Instead, Pima County is among PAG's members, which also include the Cities of South Tucson and Tucson, the Towns of Marana, Oro Valley and Sahuarita, the Pascua Yaqui Tribe, the Tohono O'odham Nation and the Arizona Department of Transportation. As a council of governments established in 1970, PAG is a regionally focused nonprofit 501(c)4 organization.
Whether PAG is wearing its metropolitan planning hat or council of governments hat, its mission is to address regional issues through cooperative efforts and pooled resources with its member agencies.
As a metropolitan planning organization, PAG is federally required to establish and regularly update a long-range transportation plan to secure state and federal funds for the region. Annually, this results in an average of $24 million in state Highway User Revenue Funds, $20 million in federal highway funds and $20 million in federal transit funds.
Every four years, PAG updates its long-range transportation plan with a 25-year outlook and matches anticipated projects with anticipated funding.
PAG also manages a 5-year transportation improvement program (TIP). Working in tandem with its member jurisdictions, PAG prepares the TIP with projects that have been identified in the long-range plan and schedules funds that will be spent in the first year of the program as well as identifies funds that are expected to be spent in the remaining four years of the program. Every two years, PAG works with its members to update the TIP to move active projects to the first year of the five-year cycle and add a new year of projects at the end of the cycle.
Both the TIP and the long-range transportation plan identify projects from the 2006 voter-approved Regional Transportation Authority's (RTA) 20-year regional transportation plan, which is funded by a countywide half-cent transportation privilege (sales) tax. This tax, an average of $85 million collected annually, offers more flexibility to meet regional transportation priorities based on public input. The tax is collected from the RTA's special taxing district, which was established by the state Legislature in 2004.
PAG also conducts transportation modeling and generates traffic and other data for all of its planning efforts so that decisions are based on the most current information available to establish effective regional policies and programs. Policy decisions are made by the PAG and RTA governing bodies, the nine-member Regional Council and RTA Board, respectively.
To meet federal transportation requirements, PAG's planning efforts must include strategies that support economic vitality of the metropolitan area, especially those that enable global competitiveness, productivity and efficiency.
PAG's other activities and services include the development of human services coordinated transportation, mapping, population projections, and travel reduction and clean air strategies.
PAG and the RTA, which is a political subdivision of the state, follow an open meeting process and encourage the public to participate to support informed decision making.
As a sponsor of the MAP Dashboard, PAG supports efforts to improve southern Arizona through data-sharing and education. The data provided by the MAP Dashboard aligns with PAG's vision to improve the region's mobility, sustainability and livability.