Author(s):
Published:
04-24-2020
Prior to the COVID-19 pandemic, the Tucson economy posted the strongest growth in the past decade. Employment gains were at a 13 year high of 1.9% in 2019 (see figure 1), GDP outpaced the nation, and wages increased by 4.1% between 2018 and 2019. As the economy now moves into a COVID-19 induced recession many individuals are anxious to remove the stay-at-home and business closure policies to restart the economy.
Figure 1: Employment Growth Fuel Gauge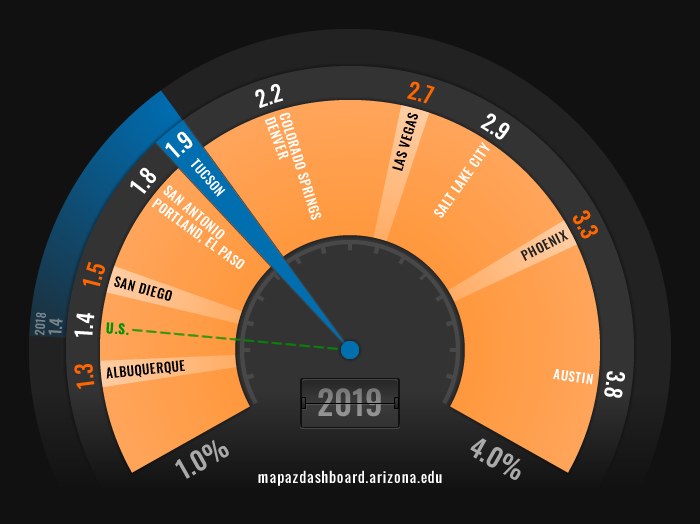 As the national discussion moves towards reopening the economy it is important to look at what steps may be necessary to do that in a responsible way from both a healthcare and economic perspective. A recent report released by the American Enterprise Institute lays out a general road map for reopening that has been cited often. Many of the phases and ideas documented in this road map align with what many of the nation's prominent epidemiologists are recommending, particularly in Phase I. U.S., state, and local government plans often align with these general signposts, but with modifications designed to reflect local conditions and concerns.
Slow the Spread
Phase I identified by the "Road Map to Reopening" is where the majority of the states in the nation currently find themselves. This is the point where our government works to slow the transmission of COVID-19 by reducing the spread of infection, increases testing capacity, and ensures our healthcare system does not become overloaded. The steps outlined in Phase I to reduce the spread of infection include maintaining physical distancing through closing community gathering spaces, allowing telework for nonessential employees, limiting domestic and international travel, and issuing stay-at-home orders for areas where transmission is rampant. The report also points out that in Phase I it is vital to increase diagnostic testing and for the rapid dissemination of results. Another important aspect of Phase I includes ensuring the functioning of the health care system. This includes expanding capacity for critical-care beds, access to ventilators, an increased supply of personal protective equipment, and maintaining access to acute-care for elective procedures. The final aspect of Phase I is to implement comprehensive surveillance, contact tracing, isolation, and quarantine for those with COVID-19.
The Road Map identified Phase II as the point where the majority of businesses and community spaces can reopen state by state. They identify several goals that must be met in order to move to Phase II.
Goals to Meet in Phase I before Moving to Phase II
Continuous reduction in cases for at least 14 days
Hospitals can safely treat all patients requiring hospitalization without resorting to crisis care
Wide-spread testing is available by the state for all people with COVID-19 symptoms
The state can conduct active monitoring of all confirmed cases and their contacts
Reopen, State by State
Once the goals of Phase I have been achieved a state can move into Phase II. In this phase, the Road Map outlines that the majority of schools, universities, and businesses can reopen. However, telework should continue when possible and social gatherings should continue to be limited to fewer than 50 people. Those most at risk for severe illness from COVID-19, such as those with underlying health conditions and older adults, should continue to social distance during Phase II. As a state moves into Phase II it will be necessary to continue testing to quickly identify an increase in cases. States should move back into Phase I if a substantial number of cases cannot be traced back to a known case, or if there is a sustained rise in new cases for five days, or if hospitals become overloaded and are no longer able to safely tread all patients requiring hospitalization.
States in Phase II should follow the following guidelines identified in the Road Map
Phase II Guidelines
Confirmed cases should be isolated either at home or in the hospital
The close contacts of confirmed cases should be traced and placed under quarantine
General physical distancing should be maintained as much as possible, including telework
Highly vulnerable populations should continue to engage in physical distancing until a vaccine or effective treatment is available
Nursing homes and long-term care facilities need to maintain high levels of infection prevention and limit visitors to prevent outbreaks
Accelerate the development of therapeutics
Identify those who are immune
Establish Protection Then Lift All Restrictions
States should only move on to Phase III when a vaccine has been developed and its safety and efficacy have been tested. The Road Map identifies the goals of Phase III as preventing infection, treating those with early disease, provide prophylaxis for those exposed to reduce the severity of the virus, build population-level immunity to the virus through a vaccine, and lift all physical distancing measures.
Rebuild Our Readiness for the Next Pandemic
The last phase identified by the Road Map is Phase IV includes rebuilding our readiness for the next pandemic. To learn more about the Road Map's suggestions for Phase IV or any of the guidelines outlined in the earlier phases visit the National Coronavirus Response: A Road Map to Reopening report.
Pima County's Criteria for Reduction of COVID-19 Restrictions
On April 21, Pima County Administrator Chuck Huckelberrry shared the criteria the county will use in a phased effort to reduce COVID-19 restrictions. The criteria are displayed below. For more information visit the County's Coronavirus Disease 2019 (COVID-19) webpage.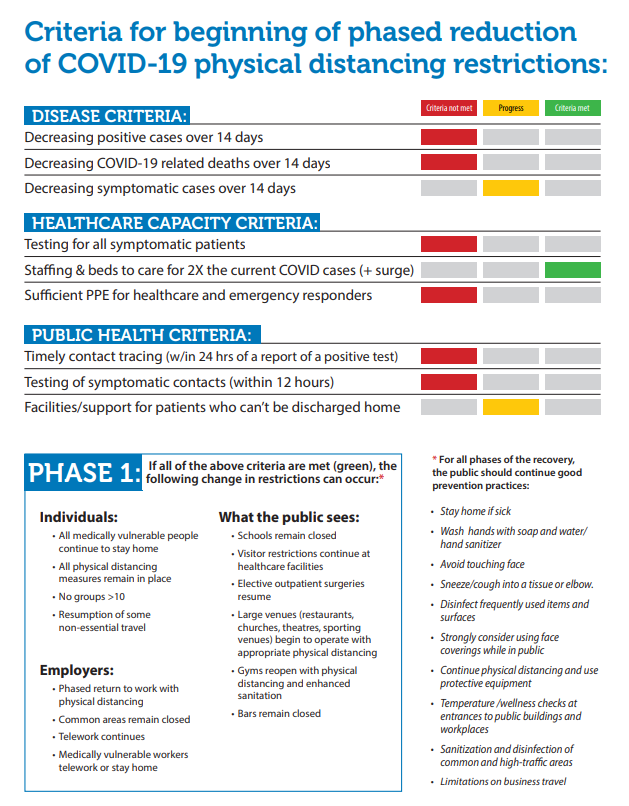 *The above infographic was copied from the Pima County website on 04/23/2020