The City of Tucson, Pima County, and the Economic and Business Research Center at the University of Arizona have collaborated to study housing and neighborhood vulnerability within the City of Tucson and Pima County. The goal of the first phase of this study is to identify "vulnerable", or stressed, neighborhoods within our region by compiling a Neighborhood Vulnerability Index.
Vulnerability in this context refers to the differing ability of members of particular socio-demographic groups to withstand threats to their livelihoods, security, and social, economic, and political networks. 1 Measures of social vulnerability attempt to integrate a set of characteristics of people and places that make them especially likely to be harmed by shocks such as natural disasters or development and rising housing prices. 2 The Vulnerability Index may be used for geographically - targeted strategies to direct resources, policies, and programs to best meet the needs of Tucson and Pima County's unique neighborhoods.
Vulnerability Factors
The Neighborhood Vulnerability Index was developed by calculating a composite score of these five factors that signal vulnerability in a community:
Percent of residents that identify as anything other than "non-Hispanic white alone"
Percent of households who rent, rather than own, their homes
Percent of residents aged 25 and over who lack a four-year bachelor's degree or higher
Percent of households with incomes below 80% of Area Median Income (as determined by HUD)
Share of children that live in households below the official poverty line
Neighborhood Vulnerability Index Map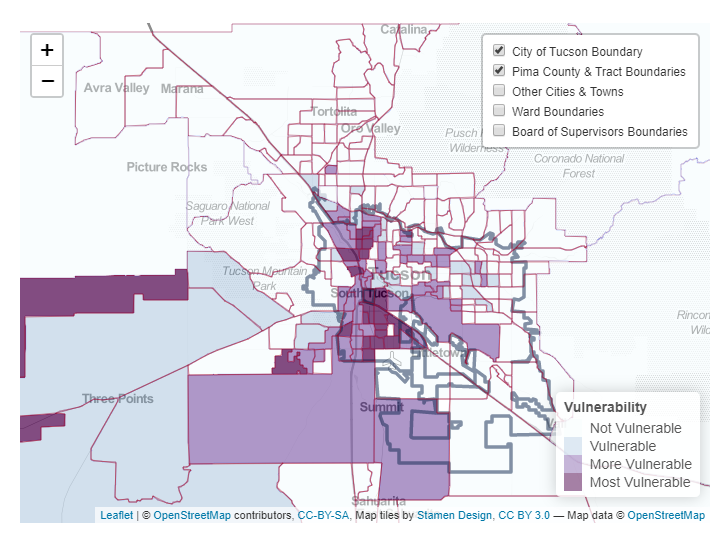 To view the interactive map and read the full study click here. The study includes full-screen, interactive maps of neighborhood vulnerability using data for 2018, 2013, and the change over time. Users can also find information about the methodology used in the study and a PDF version for easy offline reference.