Civility has long been understood as a central element of an effective democracy. From the ancient Athenian forums to modern calls for deliberation and dialogue, a commitment to civil discourse has been viewed as a democratic ideal. In the United States, growing political polarization and the widespread adoption of social media during the past decade have coincided with increased concerns about incivility.
In this white paper, we examine incivility by and directed at elected officials representing the Tucson area across three levels of government on social media. We collected messages (i.e., "tweets") authored by and directed at 33 elected officials on Twitter from January 2018 through June 2019. The Tucson-area elected officials came from the city councils of Oro Valley, Marana, Tucson, Sahuarita, and South Tucson as well as state and federal representatives whose districts included Pima County. A total of 24,778 original tweets made by local elected officials and 71,638 directed at one or more of these same officials were collected. We then developed a machine learning classifier to detect the presence of incivility -- operationally defined as name-calling. The classifier was used to evaluate all tweets in the sample. Analyses were conducted to examine the prevalence of incivility among different groups and over time.
Key findings:
Incivility was most common in tweets directed at officials representing the Tucson area in federal government. Fifteen percent of all tweets directed at this group contained incivility. Uncivil tweets directed at federal officials representing the Tucson area peaked during December 2018.
Although officials in city government were more likely to be the target of incivility than in state government, the volume of uncivil tweets directed at these two groups was modest. As Figure 1 illustrates, less than 5% of tweets directed at officials representing the Tucson area in city and state government contained incivility.
Figure 1: Proportion of Tweets Containing Incivility Directed at Elected Officials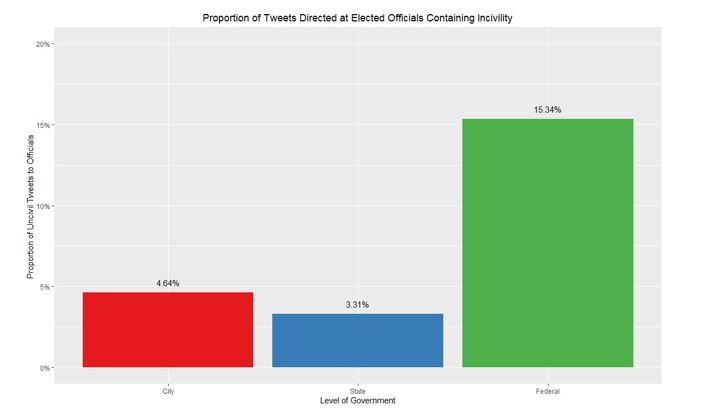 The discrepancy between incivility directed at federal officials and state or city officials could indicate that incivility increases when people perceive greater distance between themselves and their elected officials. State and city level officials are more accessible to the average citizen, and thus potentially less appealing as targets of incivility. The typically weightier stakes of national level politics may also be a factor, with citizens lashing out with name-calling around particular national issues about which they have strong feelings.
Incivility was uncommon in tweets authored by elected officials representing the Tucson area. Although officials in federal government were most likely to be uncivil, only 3% of their tweets contained incivility. Officials representing the Tucson area in state government were least likely to be uncivil with only 1.5% of their tweets containing incivility. Trends in incivility from state level officials followed the most discernable pattern over time. Incivility peaked among state officials just prior to the 2018 election.
Recommendations:
Federal officials should learn from the Twitter behavior of state level officials. State level officials used half the amount of incivility that federal officials did, presumably with no loss of useful information transmission. In other words, state level officials were able to pursue the same objectives as federal officials without the need to use incivility as frequently.
Citizens using Twitter for political exchanges should reflect upon the fact that they may engage in more name-calling with federal officials than they would with city or state level officials.