Author(s):
High-Frequency Update: 05-22-2020
Seasonally-Adjusted Unemployment Rate April 2020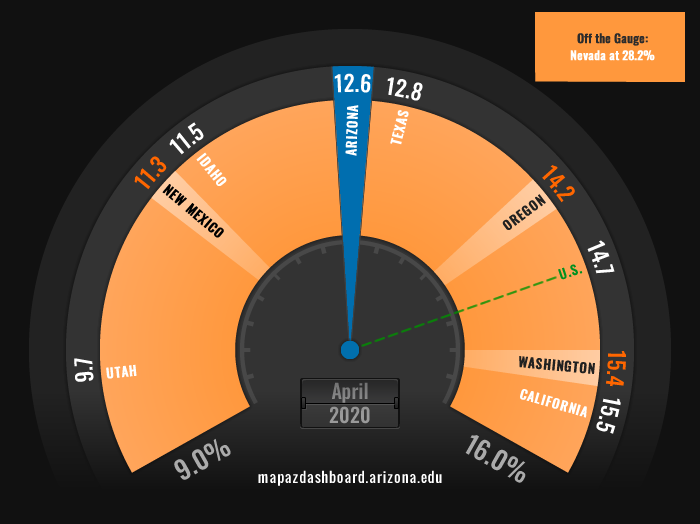 Arizona's seasonally-adjusted unemployment rate spiked up significantly in April, reaching 12.6%. That was below the national rate of 14.7%, but was the highest reading since the beginning of the current series in 1976. Arizona's unemployment rate fell in the middle of the western states just behind Texas at 12.8%. Among the western states Nevada posted the highest unemployment rate in April at 28.2%, this was driven by the state's industrial mix and the large share of jobs in leisure & hospitality. Utah had the lowest unemployment rate among western states at 9.7%. All states in the west posted significant increases in the unemployment rate during April, with Arizona's rate increasing by 7.8 percentage points from last April.
Tucson's non-seasonally adjusted unemployment rate in April was 12.6%. This was slightly lower than the state's non-seasonally adjusted rate of 12.9%. When compared to last year, Tucson's unemployment rate increased by 8.4 percentage points. Stay tuned for a MAP article comparing metro level unemployment rates in early June.  
The Economic and Business Research Center has added new weekly indicators reflecting travel activity to restaurants and recreation places as well as work places! The data are available for the U.S., Arizona, Maricopa County, and Pima County.
Travel to both work places and restaurants and recreation places has increased slowly since early April, but remains 30%-40% below January levels.
Arizona initial claims for unemployment insurance increased slightly for the week ended May 16, to 31,957. The Arizona Department of Employment Security reported that initial claims for Pandemic Unemployment Assistance through the new portal were 77,063 for the week. They also reported that 165,444 individuals qualified for Pandemic Unemployment Assistance prior to the launch of the new portal. These were included in prior initial claims through the normal system. During the past nine weeks, there have been 659,000 initial claims (including Pandemic Unemployment Assistance).
Total benefits paid last week totaled $519 million, which was a huge increase from $160 million in the prior week.
 U.S. initial claims for unemployment insurance fell modestly to 2.4 million for the week ended May 16. There were 2.2 million initial claims for Pandemic Unemployment Assistance, bringing the weekly total to 4.6 million.
The U.S. hotel occupancy rate rose again last week to 32.4%. It remains low however at 52.6% below last year.
U.S. movie ticket sales rose slightly for the week ended May 14 to $141,650. Ticket sales were down 99.9% from last year. Studios are not yet releasing a full slate of movies. There were just six new movie releases last week, compared to 122 one year ago.
For the week ended May 16, 1.4 million travelers passed through TSA checkpoints. That was up modestly from the prior week, but down 91.3% from a year ago.
Seated diners at restaurants in Arizona and Phoenix increased last week, but activity remained about 80% below year ago levels.