The Tucson nonprofit sector is a rich and vibrant community, with thousands of organizations working towards a common goal of improving and enriching the lives of Southern Arizona's population. Much of our regional identity is associated with charitable giving and providing aid to our most vulnerable groups. To better understand the dynamics of this diverse community of nonprofits, we conducted the first ever State of the Tucson Human Service Nonprofit Sector Survey. This white paper examines the characteristics of this charitable sector with particular attention towards the types of services being provided, which groups of people are receiving services, and how funding sources might be changing over time. The goal of this white paper is to identify any particular areas of service delivery or need where we might do better as a community to provide for.
While the nonprofit sector is quite diverse in terms of the causes pursued by all of the 501(c)(3) charitable organizations, we are particularly interested in those nonprofits providing human services. Since the Great Recession, the City of Tucson has been dealing with one of the highest regional poverty rates in the country. With 25% of all households and 33% of all children living below the federal poverty level, there is a constant and pressing demand to meet the needs of these low-income households and provide the necessary assistance and support to alleviate the social problems commonly associated with poverty. Furthermore, helping these individuals and families improve their overall wellbeing and earning capacity such that they are able to move out of poverty remains a massive endeavor facing Southern Arizona. The human service nonprofit sector plays an important role in providing immediate assistance and helping individuals and families find educational and employment opportunities.
In the spring of 2017, we obtained contact information for all 501(c)(3) organizations registered in the city of Tucson and attempted to reach them by phone or email to complete our survey. Of the approximately 500 active human service nonprofits, 113 completed our online survey and shared information on their organization, the services they provide, and the challenges they currently face. Based on these data, we identified key areas of unmet needs defined by frequent request for social services that the majority of nonprofit organizations are unable to provide.
One area of unmet service needs particularly stands out as a major challenge for the nonprofit sector: housing-related assistance. Help with affordable and stable housing was by far, the most common unmet need reported by the nonprofit organizations participating in our survey. Above all other reported needs, these organizations are receiving frequent requests for help in finding affordable housing, providing rental and utility assistance, and temporary shelter during times of crisis, as Figure 1 below shows.
Figure 1: Areas of Unmet Need in Tucson's Service Provision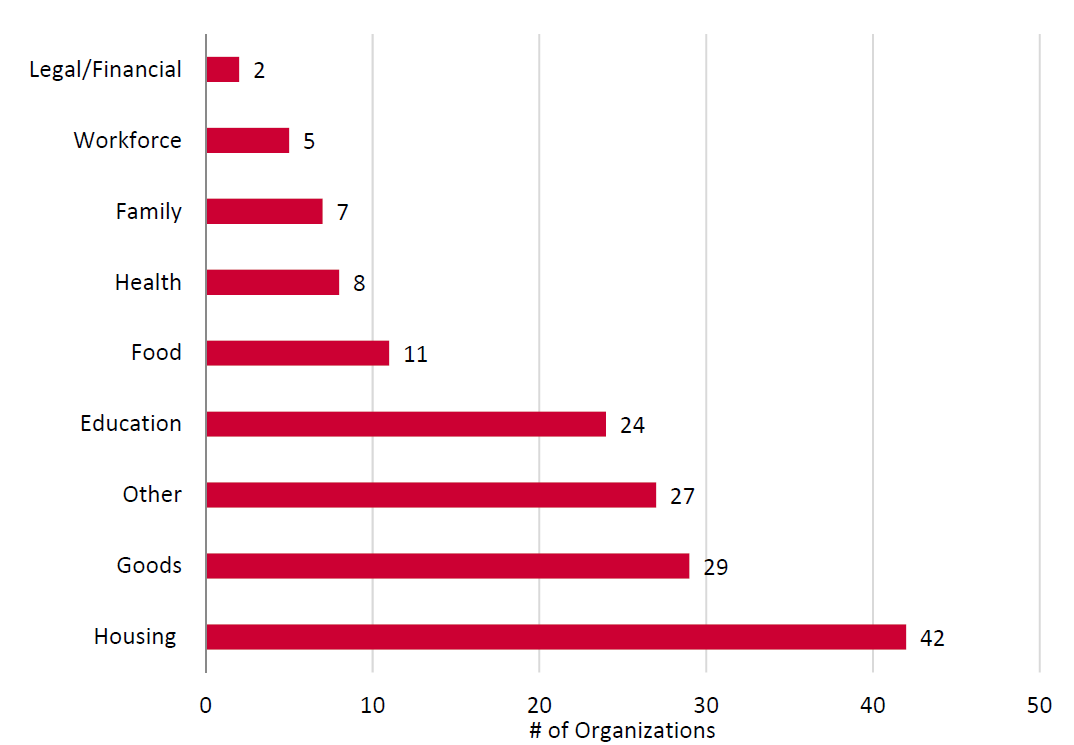 At the same time, housing assistance is also one of the least common forms of assistance that our nonprofit community currently provides, as Figure 2 below shows. Out of the 113 organizations completing the survey, only 11 reported providing some type of housing assistance – suggesting that there remains much demand for assistance finding affordable and temporary housing across the city. Additionally, the provision of housing-related services has declined since we piloted this survey in 2016, where housing was the 4th most common form of assistance provided. In 2017, housing was the 6th most frequent, suggesting that the capacity to provide housing needs is becoming more challenging for Tucson's nonprofits.
Figure 2: Types of Services Provided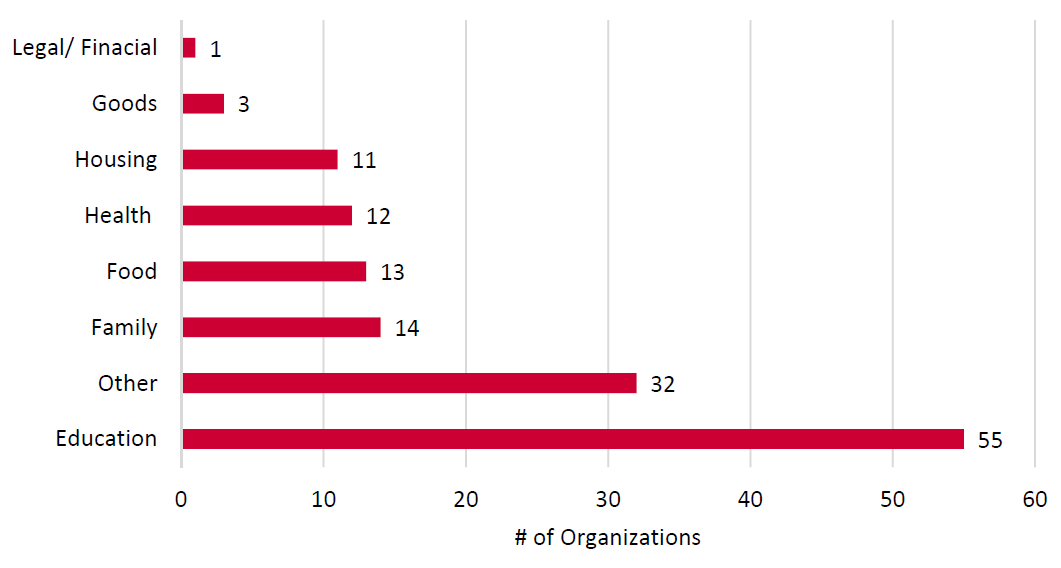 We also identified a potentially problematic trend in the funding sources most utilized by Tucson's human services nonprofit sector. Over time, more and more organizations have become less reliant on state-based funding as contracts for social service delivery have been reduced and more reliant on individual giving. While this certainly demonstrates the high level of commitment from the philanthropic sector for supporting the great needs here in Southern Arizona, with large changes to the federal tax code, many analysts are predicting less individual giving at least in the short term. Given then the large demand for services – particularly related to housing – securing long-term funding that has the potential to increase will be key to the health of the nonprofit sector.
In conclusion, the overall state of the Tucson nonprofit sector seems robust in terms of its size and variety of services provided. However, there is a clear pattern of Housing being a significant unmet need that is often referred out to the small number of organizations operating in this area. By comparison, the most common type of service provided in the 2017 is Education, despite the prevalence of requests for housing assistance. This disparity between supply and demand is indicative a serious service-gap that shows signs of continued growth with fewer organizations reporting providing any housing assistance in 2017 compared to 2016. When asked why housing was in such demand, nonprofits strongly indicated that persistent unemployment, job loss, and evictions are the most likely causes. Transportation also remains a significant obstacle to accessing many nonprofit's services, where many organizations report that their clients have limited and unreliable access to public transportation.
While the financial outlook for the nonprofit sector appears to be in some trouble, with many nonprofits reporting serious cuts in state-based funding, individual giving also seems to be on the increase. As Tucson's human service nonprofit sector enters into 2018 with many challenges and changes for sustainable financial support, attention should also be paid to their collective impact on the most pressing needs of our region's vulnerable population. Housing is a clear unmet need linked to Tucson's limited economic growth and employment opportunities that underlies many of the challenges we face today in improving the lives of thousands of chronically poor individuals and families in Southern Arizona.
The recorded MAP Talk featuring Dr. Brian Mayer's discussion on Tucson's Human Service Nonprofit Sector is now available to watch.